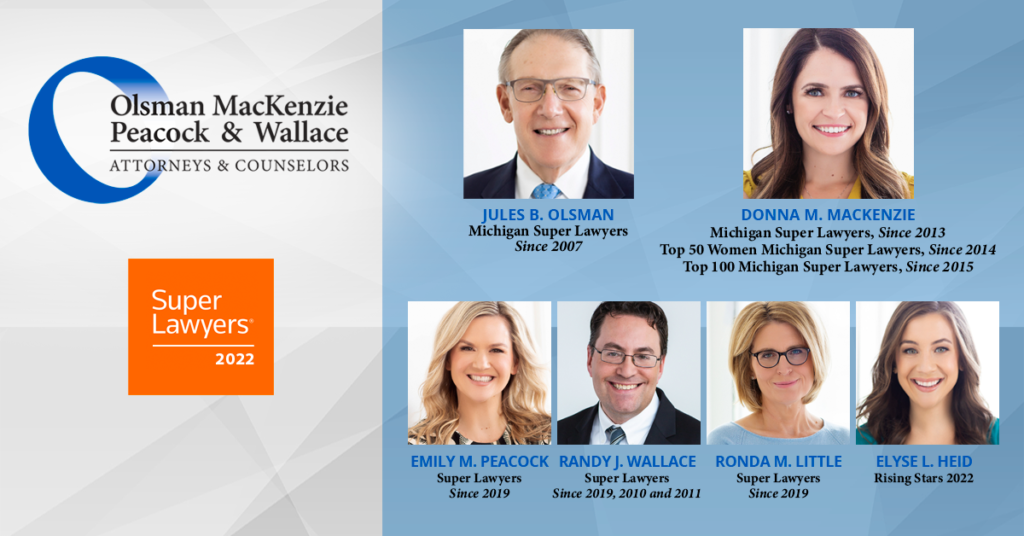 We are pleased to announce that Jules Olsman, Donna MacKenzie, Emily Peacock, Randy Wallace, and Ronda Little have been named to the 2022 Thomson Reuters Super Lawyers list, and Elyse Heid has been named a Rising Star, recognizing their exceptional representation and dedication to the field of law.
Along with being named to the Super Lawyers list, Donna MacKenzie has also been recognized on the following Super Lawyers Top Lists:
Top 50: 2022 Women Michigan Super Lawyers
Top 100: 2022 Michigan Super Lawyers
How Are the Best Michigan Attorneys Selected for the Super Lawyers Lists?
Super Lawyers, part of Thomson Reuters, is a rating service of outstanding lawyers from more than 70 practice areas who have attained a high degree of peer recognition and professional achievement. No more than five percent of the lawyers in Michigan are selected by Super Lawyers and no more than 2.5 percent of the lawyers in the state are chosen by the research team at Super Lawyers to receive the Rising Stars honor.
The annual selections are made using a patented multiphase process that includes a statewide survey of lawyers, an independent research evaluation of candidates, and peer reviews by practice area. The result is a credible, comprehensive, and diverse listing of exceptional attorneys. The Super Lawyers lists are published nationwide in Super Lawyers Magazines and in leading city and regional magazines and newspapers across the country. Super Lawyers Magazines also feature editorial profiles of attorneys who embody excellence in their practice of law.
About Our Award-Winning Super Lawyers
Jules Olsman
With over four decades of experience, Attorney and President Jules Olsman has obtained tens of millions of dollars in compensation for clients in cases involving nursing home negligence, medical malpractice, assisted living claims, group home injuries, personal injuries, police misconduct, and wrongful death. This is the sixteenth year in a row that Jules' exceptional representation has garnered him a place on the prestigious Super Lawyers list.
Donna MacKenzie
Residents of nursing homes and long-term care facilities should not have to worry about receiving substandard care that can result in significant injuries or death. As a nursing home abuse and neglect lawyer with 18 years of experience, attorney Donna MacKenzie tenaciously fights to ensure that vulnerable individuals are provided with the highest possible care. As a testament to her outstanding track record of success and countless multi-million-dollar verdicts, Donna has been named a Super Lawyer for the tenth year in a row, as well as awarded the Top lawyer distinction for being among the best lawyers in Michigan.
Emily Peacock
Michigan attorney Emily Peacock is an experienced and dedicated litigator who seeks justice for seniors who have been injured while in the care of a nursing home, senior living facility, or adult foster care home. Emily has been named a SuperLawyer on eight occasions, a testament to her dedication and exceptional outcomes in nursing home abuse and neglect cases.
Randy Wallace
When a person has been injured due to the negligence of another party, it is generally an insurance company that makes the decision about whether to pay a fair settlement or to go to trial. Attorney Randy Wallace's practice is devoted to assisting injury victims in obtaining full and fair compensation, tenaciously fighting for the justice they rightfully deserve. In furtherance of this goal, Randy has been recognized numerous times by Super Lawyers for his tenacity and commitment to excellence.
Ronda Little
When something goes awry with medical care, patients and families often do not get straight answers, as doctors and hospitals frequently brush patients off in hopes of avoiding liability. As an experienced Michigan malpractice lawyer and recipient of numerous Super Lawyers awards, attorney Ronda Little works to obtain answers, accountability, and maximum compensation for victims of medical malpractice.
Elyse Heid
As a tenacious Michigan medical malpractice attorney, Elyse Heid represents defendants in cases involving negligent acts committed at hospitals, nursing homes, and senior living facilities. Elyse zealously advocates for the rights of victims and their families, earning her the esteem distinction as a Super Lawyers Rising Star.