Surgical Team Fails to Remove Foreign Body from Patient, Leading to Numerous Complications
On a fall morning in September, Mr. S arrived at a local hospital for surgery to remove a mass on his colon. Several healthcare professionals were present during the surgery, including the surgeon, nurses, scrub technicians, and members of the surgical team. Prior to closing Mr. S's incision, the medical staff failed to remove a 35 centimeter by 35 centimeter (believed to be a surgical sponge) foreign body from his abdomen. This was despite noting in records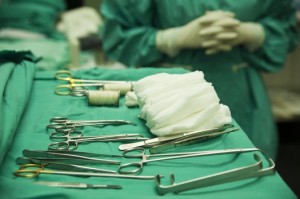 that the post-operative counts were correct.
Following surgery, Mr. S's body showed signs of an inflammatory response to the foreign body. He developed post-operative respiratory failure and was intubated through the day after surgery. He suffered from hypotension (low blood pressure), systemic inflammatory response syndrome, and electrolyte imbalance. He was placed on antibiotic therapy and a "replacement protocol" to restore electrolyte balance. Mr. S was discharged from the hospital about 3 weeks after surgery and transferred to a nursing home where he stayed for approximately six weeks. The nursing staff frequently noted that Mr. S was lethargic and unwilling to participate in therapy. Additionally, his abdominal wounds were not healing and required frequent wound care treatments from the nurses. Mr. S returned to his home in December. He received home care, but his condition continued to decline. He went to the emergency room in late January. A CT scan was performed, and it was noted that a "foreign body could not be excluded" as the cause of the issues Mr. S was experiencing. He underwent an exploratory surgery at the hospital the next day. The post operative diagnosis was "small bowel obstruction secondary to foreign body within small bowel."
Mr. S's condition continued to worsen after the foreign body was removed. He experienced several complications including, but not limited to, sepsis, pneumonia, and wound infection. After an approximately one month stay in the hospital, Mr. S was discharged to a rehabilitation facility for continued intravenous antibiotics and for rehabilitation. He continued to suffer from abdominal pain, decreased short-term memory, and disorganized thinking. He struggled with his rehabilitation, but was eventually discharged after several weeks. He returned home and now receives assistance from a live-in caregiver. Mr. S continues to suffer from complications associated with the foreign body.
Olsman, Mueller, Wallace & MacKenzie has filed suit on behalf of Mr. S.